About our site
Dividend Stocks Online was established in 2008 to create dividend lists and rankings for dividend investors.   Our lists and tools help identify stocks that fit the metrics dividend investors are looking for.
Top site features:
Top 100 dividend stock list
Dividend rankings
Dividend growth lists
Index lists
REITs
Dividend screener
For Affiliates:
Our affiliate program runs through ClickBank making it easy to set up, use and track.  You can find us by searching for "dividend" in the ClickBank marketplace.
Key details:
40% commissions for affiliates
Commissions are paid on new sales and recurring fees
Monthly members pay $29 per month
Annual members pay $239 per year
Users remain members for an average of 15 months
We have users that have been paying members since 2009
Conversion rates vary based on the source of traffic and marketing used to promote the dividend membership.  Banner ads usually lead to very low conversions.  Blog posts mentioning our product or showing how to use our lists provide higher returns.  Sending a promotional email with an incentive and deadline provides the best results, with conversion rates as high as 16% for affiliates.
Create an account
The first step is to create an account at ClickBank.
Once logged in, search the marketplace for "top dividend stocks."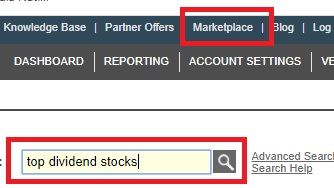 Once your search is complete you will find our membership product.  Click promote to create your tracking ID.

Use this tracking ID whenever you link to our site to ensure you will receive a 40% commission.
Test account
If you'd like a membership account to use for creating reviews or to write about our dividend lists and rankings please contact us.  Please include your Clickbank hop ID in your request.
How to promote
Here are a few ideas to get affiliates started:
Site review – explain the pros and cons of our website, highlight the features, give your honest opinion.
List review – review one of our many dividend stock lists, highlight a few individual stocks and their rankings.  Our lists are updated monthly so affiliates can publish new ranking reviews each month.
Dividend & REIT screener – explain how it works and how you use it to find stocks you like
To create an affiliate link directly to our screener follow these steps:
1. Go to the Clickbank Marketplace and search for "top dividends"
2. Click Promote
3. Use the radio button to select the dividend screener page

4. Use this link when linking to our dividend screener.
Write your own dividend stock article explaining the benefits of dividend investing and link to our site using your affiliate links
Social media
Newsletter and email

Offer a thank you incentive if your readers join by a given deadline.  This could be an ebook or some other product your users are interested in.
Offer a coupon code with a deadline.  If interested contact us for a coupon code.  Note that coupons reduce total sales, rebills and commissions.  The max coupon allowed is 20%.
We welcome all honest reviews of our program and would be happy to answer any questions you have. It is against our terms of service to republish our lists but affiliates are allowed to write articles revealing the ranking of up to 5 stocks on any list.
For example, an affiliate can reveal the top 5 stocks on our top 100 list and write their opinion of each stock.  Or they could write an opinion article about dividend stocks and mention our rank when discussing a stock that is of interest. We are very flexible with this guideline.
Questions
Reach out to us anytime: contact page